California Police Brutality Attorneys
Introduction to Police Brutality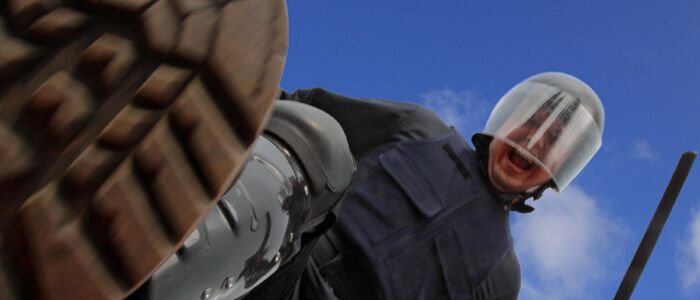 Police officers have many important responsibilities. These include protecting the peaceful against the violent, safeguarding the weak from the oppressive and upholding the Constitutions of the United States and of the State of California. However, while some police officers abide by their promise to serve and protect, others abuse the power and authority that have been bestowed upon them. Almost anyone can become a victim of police brutality, including during the course of an arrest or traffic stop, while already in police custody awaiting trial, or even as a convicted prison inmate. Police brutality is often carried out by the use of:
Batons

Takedowns

Personal body weapons (hands/elbows/feet/knees)

Pepper spray

Carotid restraints and choke holds

Rubber bullets/beanbag rounds
Being the victim of police brutality can be the most terrifying experience of a person's life. Victims often feel helpless when they find themselves the targets of violence and aggression at the hands of those whom they should be able to trust. While there are remedies for police misconduct, the process of holding officers accountable can be complicated and overwhelming.
The good news is that the California police brutality attorneys at Piccuta Law Group have the experience you need to get the results you deserve. Our attorneys have a proven track record of success in police brutality lawsuits. While some attorneys may jump at quick settlements, we fight for the rights of our clients at every step of the way. We welcome the courtroom and have never been afraid to go to trial.
On this page, our California police brutality and excessive force lawyers will help answer questions you may have, including the following:
What is police brutality/excessive force?

Do the same rules apply to traffic stops as to arrests?

What if the guards attack me while I'm in jail?

What claims can I bring and against whom can I bring them?

What damages can I recover for police brutality?
If you believe that you have been a victim of police brutality, we can review your case and help determine whether you may be entitled to compensation for the injuries you have suffered. Remember, there are time limits to file a lawsuit. Failure to meet certain deadlines may mean you can no longer bring a claim. Do not hesitate to call us at your earliest convenience at (831) 920-3111 for a free consultation.
What is Police Brutality/Excessive Force?
The phrases "police brutality" and "excessive force" are often used interchangeably. The most common police brutality lawsuits arise when police officers use force in the course of an arrest, a traffic stop or other stop of an individual to investigate criminal activity. When a police officer stops or arrests someone, the officer is considered to have seized the person. The Fourth Amendment to the United States Constitution requires that the seizure is reasonable. When the cops use excessive force, the seizure is considered unreasonable. This means that the police have violated your Fourth Amendment rights, and you may be able to hold the police officer responsible for any harm caused.
In most police brutality cases, the officer's conduct is measured under a standard of objective reasonableness. This standard involves balancing the intrusion on a person's Fourth Amendment rights against the governmental interests at stake. The first step is to assess the severity of the intrusion on the person's Fourth Amendment rights. To do this, the court considers the type and amount of the force used by the police officer. Next, the court analyzes the interests of the government in the use of force. The government's interest is evaluated by looking to a number of factors, including:
The severity of the crime at issue
Whether the person was attempting to escape or resist arrest
Whether the person posed an immediate safety threat to others, including to officers

Whether resistance was active or passive

The amount of time available to the officer to deliberate on the appropriate level of force

The number of lives at risk

The number of officers at the scene or on the way

Whether less intrusive measures were available to the police

Whether the person was emotionally disturbed or mentally ill
The first three of the above are commonly referred to as the Graham factors. They were identified by the United States Supreme Court in Graham v. Connor. These are the primary factors and should be weighed in every case. The threat of safety to others and to the officers is the most important consideration. Other factors may be considered, including those listed above, depending on the facts of the case.
A couple distinctions between California state law and federal law are worth noting. For one, when assessing the use of force under California law, courts will consider a police officer's decisions leading up to that officer's use of force. In contrast, federal law focuses more on the conduct at the moment the force is used. Also, effective January 1, 2021, carotid restraints and choke holds are banned under California state law.

Do the Same Rules Apply to Traffic or Other Brief Stops?
Sometimes, police officers may be allowed to stop someone even though the officer does not have grounds to make an arrest. This is often referred to as an investigatory stop or a Terry stop after the case, Terry v. Ohio. A "stop" can include a traffic stop or any other brief stop of a person to investigate potential criminal activity. To be clear, the cops still must have some reason to make the stop. While an arrest requires the police to have probable cause of a crime, a stop only requires that an officer have reasonable suspicion of criminal activity. Reasonable suspicion is something less than probable cause. It has been described as suspicion of criminal activity based on objective and articulable facts, along with rational inferences drawn from those facts.
It is true that a police officer's conduct will be judged on the facts of each case. However, there are some limits on the amount of force an officer can use during a traffic stop that apply in every case. For example, the Ninth Circuit Court of Appeals has placed strict limits on when an officer may draw a weapon. According to the court in Washington v. Lambert, "[u]nder ordinary circumstances, when the police have only reasonable suspicion to make an investigatory stop, drawing weapons and using handcuffs and other restraints will violate the Fourth Amendment." The court identified four exceptions that could justify the use of weapons or handcuffs during a traffic stop. These include the following:
The suspect is uncooperative or appears to be dangerous or a flight risk

The suspect is presently armed

The suspect had just committed a violent crime

The police have reason to believe a violent crime is about to occur
More recently, in Rutherford v. McKissack, the Ninth Circuit bluntly stated that "officers cannot use firearms during a Terry stop absent special circumstances." By special circumstances, the court was referring to the exceptions listed above as identified by the court in Washington v. Lambert. After Washington and Rutherford, there now seems to be a bright line rule that an officer who draws and points a gun at someone during a traffic stop is guilty of excessive force unless one of the exceptions is present. This would also seem to be the case when an officer uses handcuffs, other restraints or certain other weapons during a routine traffic stop.
What if the Guards Attack Me While I'm In Jail?
Some people worry that if they are the victims of police brutality while in jail or prison, there is nothing they can do. This is not true. Pretrial detainees and convicted prisoners may also bring lawsuits based on the use of excessive force. The guilty parties in these cases are often correctional officers or prison guards.
There is an important distinction between pretrial detainees and those who have already been convicted of a crime. A pretrial detainee is a person who is incarcerated in a jail or in custody but has not yet been convicted. The Fourteenth Amendment, as opposed to the Fourth Amendment, protects pretrial detainees from the use of excessive force. However, the same standard applies. The officer or guard is guilty of excessive force if the force used was objectively unreasonable.
When it comes to convicted prisoners, excessive force is considered cruel and unusual punishment and is prohibited by the Eighth Amendment to the United States Constitution. A prisoner's claim under the Eighth Amendment is analyzed under a different standard. The prisoner claiming law enforcement brutality or excessive force by the prison guard must still establish that the guard used objectively unreasonable force. However, the prisoner must also meet a malicious and sadistic standard. This means that the prisoner must show that the guard acted sadistically and maliciously with the purpose of causing harm instead of for discipline or to maintain or restore order. In determining whether a plaintiff has proven a case of excessive force in the prison context, the following factors will be considered:
The extent of the injury suffered by the inmate

The need for the use of force

The relationship between the need for the force and the amount of force used

The threat, if any, that was reasonably perceived by the officer

The efforts made to use a lesser degree of force and, if possible, provide a prior warning and opportunity to comply
The additional malicious and sadistic "state of mind" requirement makes prisoner cases more difficult to prove. However, it is important to remember that this standard applies to a constitutional claim for violation of a prisoner's Eighth Amendment rights. You may also have the ability to bring a state law claim, which can be easier to prove. An example of this would be a claim for battery against a correctional officer.
What Claims Can I Bring and Against Whom Can I Bring Them?
Numerous theories of recovery under state and federal law may be available to victims of police brutality and excessive force. Some of the most common include:
Section 1983 lawsuits

The Tom Bane Civil Rights Act

Negligent/Unreasonable Use of Force

Battery by a Police Officer

Intentional Infliction of Emotional Distress

Federal Tort Claims Act (FTCA)

Bivens actions
Claims based on police brutality may be brought in state or federal court against local, state or federal officers, depending on the circumstances. In certain cases, you may also be able to sue a city, county, the state or the federal government.
What Damages can I Recover in a Police Brutality Lawsuit?
One of the most powerful aspects of a police brutality civil rights lawsuit is that the other side may have to pay your attorney's fees and other penalties. For example, under California's state civil rights statute, The Bane Act, the guilty officer may be responsible for:
Your attorney's fees

Punitive damages to punish and deter the officer's misconduct

Civil (monetary) penalties in addition to actual damages
Victims of police brutality are also entitled to compensation just like in other types of cases, like personal injury lawsuits. These damages can be categorized into what are often referred to as economic and noneconomic damages. Economic damages include the following:
Past medical expenses

Future medical expenses

Lost past income

Decreased ability to earn income in the future

Household help, services and expenses

Property damage
Noneconomic damages account for:
The nature and extent of the injury

Disability, disfigurement and loss of enjoyment of life

Mental, physical and emotional pain and suffering

Lost companionship between parent and child
Another favorable aspect of a police brutality case is that a settlement or judgment is usually paid by the government. This means that you will likely not have to worry about whether the police officer has enough money to pay for your damages.
Contact the California Police Brutality Attorneys at Piccuta Law Group
Unfortunately, sometimes those sworn to protect us do not follow through on that promise. The good news is that under California and federal law, you may be entitled to compensation when the police betray the duties that they owe to all of us. The California police brutality attorneys at Piccuta Law Group can help you work through the complexities of these types of cases. We will fight to help you recover fair and just compensation for what you have experienced. Contact us at (831) 920-3111 for a free consultation. You can also submit an email with details regarding your case. A skilled and experienced police brutality attorney is available now to discuss your case and help determine your right to a recovery.
About the author: The content on this page was written by California civil rights lawyer and Monterey personal injury attorney Charles "Tony" Piccuta. Piccuta graduated with honors from Indiana University-Maurer School of Law in Bloomington, Indiana (Previously Top 35 US News & World Report). Piccuta took and passed the State bars of Arizona, California, Illinois and Nevada (all on the first try). He actively practices throughout California and Arizona. He is a winning trial attorney that regularly handles serious personal injury cases and civil rights lawsuits. He has obtained six and seven figure verdicts in both state and federal court. He has been recognized by Super Lawyers for six years straight. He is AV Rated by Martindale Hubble. He is a member of the Consumer Attorneys of California, American Association for Justice, National Police Accountability Project, Arizona Association of Justice, Maricopa County Bar Association and Scottsdale Bar Association, among other organizations.
Disclaimer: The information on this web site is attorney advertising and is for informational purposes only. It does not constitute legal advice. Reading and relying upon the content on this page does not create an attorney-client relationship. If you are seeking legal advice, you should contact our law firm for a free consultation and to discuss your specific case and issues.