PLG Obtains $720,000 Excessive Force Settlement Against City of Clovis Police
Last week, the Piccuta Law Group settled a police brutality lawsuit against the City of Clovis and one of its police officers. The settlement reached was for $720,000. The lawsuit our firm filed alleged that the client was unnecessarily taken to the ground while handcuffed and suffered a broken hip. The lawsuit was filed on March 3, 2020 in Fresno County Superior Court. The lawsuit was filed on behalf of Bryon Espinosa and named police officer Timothy Dronek as a Defendant.
General Facts Regarding the Events Leading to the Excessive Force Lawsuit
The complaint we filed in the lawsuit alleged that Dronek used excessive force. The lawsuit claimed that City of Clovis police officers went to Espinosa's home on January 28, 2019 to investigate a report of a trash can dispute between Espinosa and a neighbor. While there, Dronek entered onto the property of Espinosa without invitation. Espinosa then told Dronek to leave his property and attempted to take a video with his cell phone. Officer Dronek responded by charging toward him, subduing him and slamming him to the ground.
The police brutality lawsuit further claimed that once he was handcuffed near the walkway to his front door, he was then dragged into the yard where he was again slammed to the ground, face-first onto the concrete driveway. The lawsuit further alleged that Dronek used such force during the second take down of Espinosa that he dislocated his right hip and caused fractures of Espinosa's femur and pelvis. Espinosa required two surgeries in the hours following the encounter with Dronek to repair his injured hip.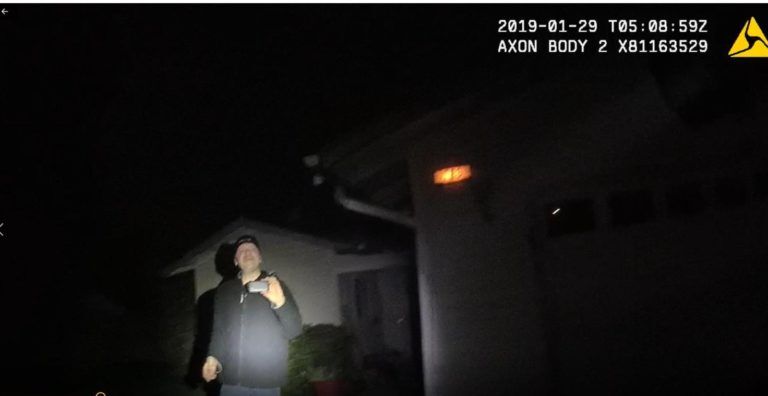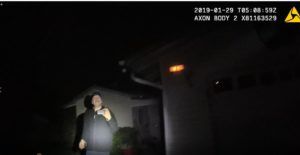 The Specific Allegations We Set Forth in the Police Brutality Case Against City of Clovis Police
A First Amended Complaint was filed in the lawsuit. The specific factual allegations we set forth are below:
On January 28, 2019, Mr. Espinosa and his neighbor were involved in a dispute concerning their trash cans.
Later that night, Mr. Espinosa went outside of his home, located at 766 Acacia Ave., Clovis, California, to view whether his neighbor had taken any further action involving the cans.
Outside, Mr. Espinosa noticed that the neighbor was speaking with an officer of the Clovis Police Department. Mr. Espinosa then went back inside his house to retrieve his cell phone.
Mr. Espinosa returned outside with his phone and saw that Defendant Dronek and Cross-Complainant Lowery, a police recruit with the Clovis Police Department, had arrived in their respective patrol cars. The patrol vehicles were parked on the opposite side of the cul-de-sac on which Mr. Espinosa's house was located.
As Mr. Espinosa was walking down his driveway toward the cul-de-sac, Dronek and Lowery exited their vehicles and entered onto Mr. Espinosa's property.
Mr. Espinosa told Dronek and Lowery to get off his property. Dronek and Lowery responded by charging toward Mr. Espinosa, who began retreating toward his house out of fear.
While Mr. Espinosa was retreating, he was walking backwards with his back to his home and his face toward Dronek and Lowery. At this time, Mr. Espinosa was visibly attempting to record his surroundings with his cell phone, though he was unsuccessful in doing so. Mr. Espinosa was also yelling for his fiancé, Jadine Woo, who lived with him at the residence, to come witness what was transpiring.
Mr. Espinosa continued to retreat with his back to the front door of his house while facing the officers. He also continued to tell Dronek and Lowery to leave his property. Dronek responded by approaching Mr. Espinosa, physically restraining him and slamming him to the ground. As Dronek was doing so, he swung Mr. Espinosa back and forth into the side of the house and against a bench.
Once on the ground, Mr. Espinosa was handcuffed by Dronek and Lowery. At this time, another Clovis police officer, Officer Mason, approached Mr. Espinosa and threatened to allow his K-9 to bite him.
Dronek then dragged a fully subdued and restrained Mr. Espinosa to his feet and into the front yard. As Dronek was doing so, Mr. Espinosa continued to ask him why the officers had handcuffed him. Mr. Espinosa expressly questioned Dronek whether it was because he had filmed Dronek.
In the yard, Dronek used a trip maneuver to again take Mr. Espinosa to the ground. When he did so, Mr. Espinosa was handcuffed and defenseless to protect himself. As a result, Mr. Espinosa was thrown face first into his own concrete driveway.
In taking him to the ground, Dronek applied such a degree of force that he caused a fracture of Mr. Espinosa's right femoral head and right hip socket.
After breaking his hip, Dronek yelled at Mr. Espinosa to stand up. Mr. Espinosa responded by declaring that Dronek broke his hip. Mr. Espinosa also informed officers that he could not move his right leg.
Dronek responded by dragging Mr. Espinosa to the patrol vehicle in which Dronek had arrived. Once at the vehicle, Dronek discarded Mr. Espinosa onto the street next. 20. Mr. Espinosa was eventually lifted off the ground and placed in a patrol car.
Dronek did not summon medical personnel to the scene to attend to Mr. Espinosa's injuries. Nor did Dronek transport Mr. Espinosa from the scene to a medical facility. Mr. Espinosa was instead taken directly to the Clovis Police Department.
At the Police Department, Mr. Espinosa's right leg was turned inward and resting in an unnatural position. That night, Mr. Espinosa was taken by ambulance to Clovis Community Medical Center where the first of two surgical procedures was performed to repair his hip. From there, Mr. Espinosa was transported to Community Regional Medical Center in Fresno for a second hip surgery.
Mr. Espinosa was never charged with a crime related to the events of January 28, 2019.
Dronek's unreasonable use of force directly and proximately caused Mr. Espinosa to incur medical expenses and to endure physical pain, mental suffering, loss of enjoyment of life, disfigurement, physical impairment, inconvenience, grief, anxiety, humiliation and emotional distress. The resulting harms to Mr. Espinosa included injuries to his face, eye, hands, wrists, arm, shoulder, knee, leg and hip, which required two surgeries and the insertion of hardware.
After breaking Mr. Espinosa's hip, Dronek continued to manhandle Mr. Espinosa. Mr. Espinosa was dragged through the yard and left lying in the street after he had informed Dronek that his hip was broken. This conduct was despicable and was carried on with a willful and conscious disregard for Mr. Espinosa's rights and subjected him to cruel and unjust hardship. As such, Dronek's conduct was malicious and oppressive.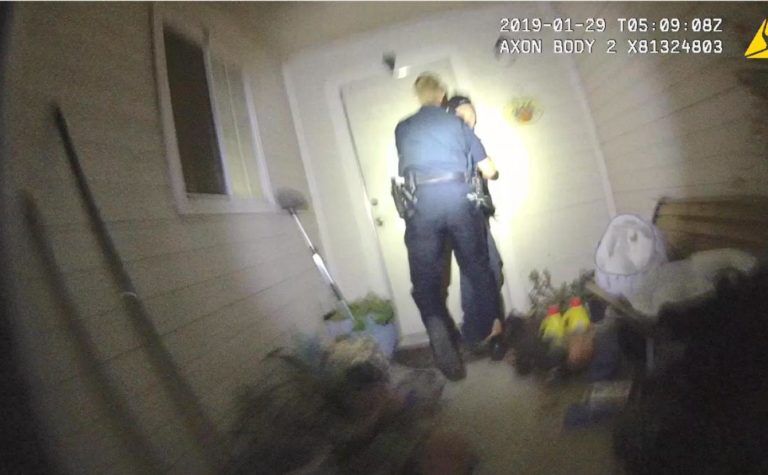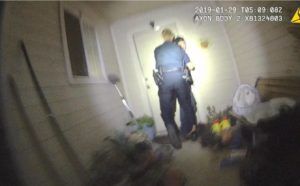 The Police Brutality Settlement with the City of Clovis
Dronek and the City of Clovis denied the allegations. The case was scheduled for trial on January 18, 2022. On November 5, 2021, the parties attended a mediation and reached a tentative settlement. The settlement was recently approved by the City of Clovis. Last week, Espinosa dismissed the lawsuit, pursuant to the terms of the settlement agreement reached, after receiving the settlement funds.
Multiple Newspapers, Media Outlets and News Websites Reported on the Police Brutality Settlement
This case and the settlement were reported on by news outlets throughout the Country, California and the Central Valley. This includes the Fresno Bee, the major newspaper in the greater Clovis area. The Fresno Bee ran a story with the headline "Clovis man to receive nearly $1 million settlement in police brutality case." Click here to read the story.
Other Excessive Force Cases Handled by Our Police Brutality Attorneys Against City of Clovis Police and Fresno County Sheriff's Office
The police brutality attorneys at the Piccuta Law Group handle excessive force and police misconduct cases throughout the entire state. We have been especially successful in handling civil rights cases in the Central Valley. This includes police misconduct cases against the City of Clovis Police Department and law enforcement officers based in Fresno. A few of our results are below:
2016 – $650,000 settlement against City of Clovis police officers for the wrongful tasering of our client while handcuffed.
2017 – $130,000 jury verdict against correctional officers based in Fresno County and working for CDCR for setting up an attack by inmates on our prisoner client.
2018 – $420,000 settlement against correctional officers based in Fresno County and working for CDCR for making death threats and retaliating against our prisoner client.
2020 – $1,422,500 jury verdict ($710,000 awarded-$712,500 fees) against City of Stockton police officers for police brutality and battery by a peace officer of our then minor client.
2021 – $720,000 settlement against a City of Clovis police officer and discussed in this article.
Current police brutality lawsuit against Fresno County Sheriff Deputy – In October 2021 we filed a new police brutality lawsuit alleging that a Fresno County Sheriff Deputy used excessive force against our client because she exercised her right to free speech on a routine traffic stop. To learn more about that case please click here to read a prior post discussing it.
Contact One of Our Police Brutality Attorneys if You Have an Excessive Force Case
If you or a loved has experienced police brutality, or other law enforcement misconduct, contact us today. Our civil rights attorneys regularly handle cases involving police misconduct against law enforcement officers throughout California. We have a proven track record of results and success. We have obtained high dollar settlements and jury verdicts in civil rights cases for police excessive force. We can help you win your police brutality case. A consultation is free and an experienced police brutality attorney is available now. Call us today.
About the author: The content on this page was written by California police brutality attorney and Monterey civil rights lawyer Charles "Tony" Piccuta. Piccuta graduated with honors from Indiana University-Maurer School of Law in Bloomington, Indiana (Previously ranked Top 35 US News & World Report). Piccuta took and passed the State bars of Arizona, California, Illinois and Nevada (all on the first try). He actively practices throughout California and Arizona. He is a winning trial attorney that regularly handles serious personal injury cases and civil rights lawsuits. He has obtained six and seven figure verdicts in both state and federal court. He has been recognized by Super Lawyers for six years straight. He is AV Rated by Martindale Hubble. He is a member of the Consumer Attorneys of California, American Association for Justice, National Police Accountability Project, Arizona Association of Justice, and many local county and City bar associations.
Disclaimer: The information on this web site is attorney advertising and is for informational purposes only. It does not constitute legal advice. Reading and relying upon the content on this page does not create an attorney-client relationship. If you are seeking legal advice, you should contact our law firm for a free consultation and to discuss your specific case and issues.