PLG Civil Rights Lawyers Settle Excessive Force Tasering Case Against City of Salinas Police
The civil rights lawyer at Piccuta Law Group recently finalized settlement of an excessive force case one week before the trial was set to begin. The case was filed by our civil rights lawyers against police officers employed by the City of Salinas police department. The lawsuit alleged that the officers used excessive force during a routine traffic stop and unnecessarily tasered our client.
The Client Was Pulled Over for Questionable Reasons
On April 20, 2019, the client was driving from work to his home located on Eucalyptus Drive, in Salinas, California. While in route, the client was forced to make a defensive lane change to avoid a collision with another vehicle that had made an unsafe lane change and had cut him off. Shortly after, he noticed a City of Salinas police car behind him.
Not long after, the police officers in the police car initiated a traffic stop by illuminating the overhead siren. The client was a young Hispanic male. He was upset that he was being pulled over because he believed he was being racially profiled. The client flipped off the officers and then proceeded approximately 1/10 of a mile before pulling over in front of his house.
Feeling uneasy, he honked his horn in hopes that his mother and brother would come out. The police car accelerated and braked aggressively behind him. The client rolled his window down and waited for the officers.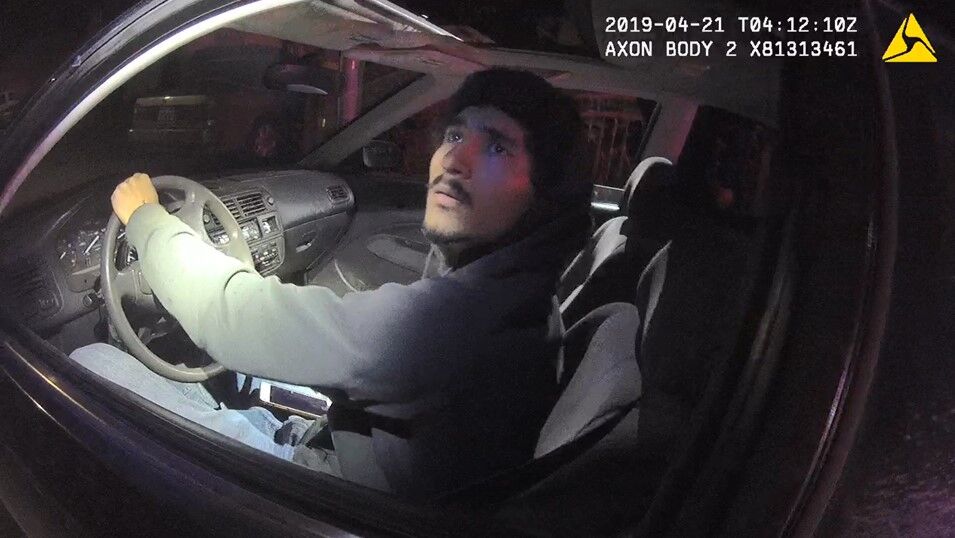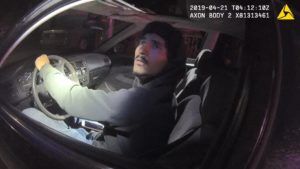 Flipping Off or Cursing at a Police Officer is Protected Free Speech Under the First Amendment
The First Amendment allows freedom of speech and freedom of expression. It is a constitutional right guaranteed by the First Amendment. It allows someone to be critical of police officers and to question them. It even allows individuals to flip off police, cuss at them or call then less then flattering names.
Obviously, doing any of these things is disrespectful and our civil rights lawyers do not encourage this type of behavior. However, clients who are unfairly targeted by police often want to voice their frustration. Police officers are trained to withstand verbal abuse and name calling.
It is illegal for a police officer to use force against an individual for exercising protected free speech.
Unfortunately, some police officers ignore this training. Instead, these officers retaliate against individuals who are disrespectful to them. These police officers lose their cool and resort to physical violence. Even worse, some of these officers do not act in the heat of the moment. Instead, they make a calculated decision to teach these individuals a lesson by using force.
It is illegal for a police officer to use force against an individual for exercising protected free speech. When an officer does so, it is called First Amendment retaliation or free speech retaliation. It is a violation of the First Amendment. When a person's First Amendment rights are violated, they may sue the police for that violation. Our civil rights lawyers included a First Amendment retaliation claim in the lawsuit filed on behalf of our client.
The Police Officers Pulled the Client Out of His Car On a Routine Traffic Stop
Once the client was stopped, two City of Salinas police officers approached his vehicle from opposite sides and told him to turn off the car. The client complied and threw his car keys out the window. The client was then ordered to keep his hands on the steering wheel. The client kept asking the officers what was wrong, but the police officers refused to answer him.
Instead, the police officers told him multiple times to stopping moving around and to keep his hands on the steering wheel. This command was given repeatedly even though the client's hands remained on the steering wheel. The officers then opened the doors to his vehicle and went hands on while ordering him to get out.
Specifically, the police officer on the driver side door grabbed his left shoulder. At the same time, the officer on his passenger side door started yelling for him to exit the vehicle or that he would be tased. The client stated "alright, alright, alright," and began stepping out of his vehicle. However, before he could exit his vehicle the taser was deployed. He was then dragged from the vehicle and slammed on the ground.
The Client Experienced Police Brutality When He Was Tasered Several Times for No Reason
Once on the ground, the client was pinned under the weight of the primary police officer who weighed approximately 240 pounds. The client weighed 140 pounds. While he was pinned to the ground by the primary officer, another officer arrived on the scene and held his legs down. He was then tased by a third officer four times in drive stun mode.
The officers claimed that the reason he was tasered is because he had his hands underneath his body by his waistband. The officers said this was a safety concern since the client had not been searched and could have a weapon there. The body worn camera showed that one officer had control of his left hand and the primary police officer had his right hand pinned to the asphalt in plain sight. Nevertheless, the client was tasered multiple times.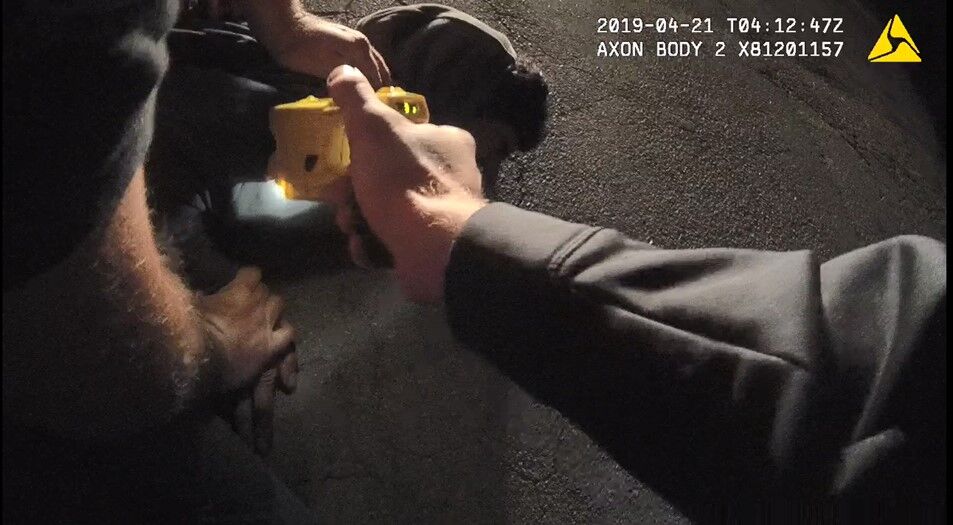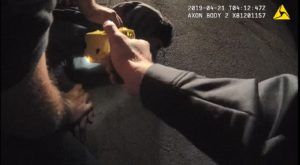 The police officers searched the client and found no weapons or contraband. The police officers searched his vehicle and found nothing there either. The client had never been arrested and had no criminal history. Unknow to the police officers at the time, the client was a local business owner and a family man who had never been in trouble with the law.
The client was handcuffed and taken to the police station. He was cited for unsafe lane change, a license plate violation, and resisting, obstructing or delaying a police officer. He attended 16 hours of anger management courses and stipulated to probable cause for the stop and arrest in exchange for a dismissal of all charges.
The Client Hired Our Civil Rights Lawyers Who Took the Case to the End and Secured a Settlement
The client spoke to dozens of attorneys but could not find any to take his case. The client advised that other attorneys told him that he did not suffer significant injuries so his case was not worth advancing. We agreed to take the client's case because we believed his rights were violated even though he was not seriously injured.
We agreed to take the client's case because we believed his rights were violated even though he was not seriously injured.
We filed a lawsuit and litigated the case for more than two years. We took the sworn statements of the police officers. We completed all pre-trial preparation. Within one week of trial, we were able to settle the case for an amount the client believed fairly compensated him for what he went through.
Contact Our Civil Rights Lawyers to Discuss Your Case
If you or a loved one has experienced police brutality or law enforcement misconduct, contact our office today to discuss your case. A consultation is free. We charge no fees unless we obtain a recovery for you. Contact our office today.
About the author: The content on this page was written by California civil rights lawyer and Monterey personal injury attorney Charles "Tony" Piccuta. Piccuta graduated with honors from Indiana University-Maurer School of Law in Bloomington, Indiana (Previously Top 35 US News & World Report). Piccuta took and passed the State bars of Arizona, California, Illinois and Nevada (all on the first try). He actively practices throughout California and Arizona. He is a winning trial attorney that regularly handles serious personal injury cases and civil rights lawsuits. He has obtained six and seven figure verdicts in both state and federal court. In 2022 he set a record $11.75 million dollar settlement for a civil rights case against Maricopa County Sheriff's Office. He has been recognized by Super Lawyers for six years straight. He is AV Rated by Martindale Hubble. He is a member of the Consumer Attorneys of California, American Association for Justice, National Police Accountability Project, Arizona Association of Justice, Maricopa County Bar Association and Scottsdale Bar Association, among other organizations.
Disclaimer: The information on this web site is attorney advertising and is for informational purposes only. It does not constitute legal advice. Reading and relying upon the content on this page does not create an attorney-client relationship. If you are seeking legal advice, you should contact our law firm for a free consultation and to discuss your specific case and issues.