Monterey Civil Rights Attorney, Charles Tony Piccuta, Settles Excessive Force Case Against Veterans Affairs Police
Earlier this week, Monterey Civil Rights Attorney, Charles Tony Piccuta, settled a case involving a veteran who claimed he was assaulted by police at a V. A. Hospital. The case was filed in federal district Court and entitled Hathaway v. Fister, Lopez and United States of America (USDC Case #: 2:17-CV-03048). The case settled for an undisclosed amount, but for an amount that will provide the client with substantial resources for his future.
The Facts Alleged by Our Civil Rights Attorneys
Our civil rights lawyers filed a lawsuit with the following allegations:
The client was a marine veteran who went to a Veteran Medical Center for medication. While there, he had a dispute with staff and was taken into police custody. No less than four V.A. police officers handcuffed him and took him to a holding cell in the facility. After the door to the holding cell was opened, two police officers, Joshua Fister and Dominic Lopez, ran him head first into the rear holding cell wall. The client suffered a laceration on his forehead as a result. The client was then thrown to the ground where several officers joined in.
The lawsuit alleged, that while on the ground, one of the officers choked the client by placing his hands around his throat and mouth until he could no longer breathe. The client was then hog-tied while he bled from his forehead. A nurse came and applied steri-strips to the client's forehead after the assault.
A picture of the client's injury while he was on the floor of the holding cell is below.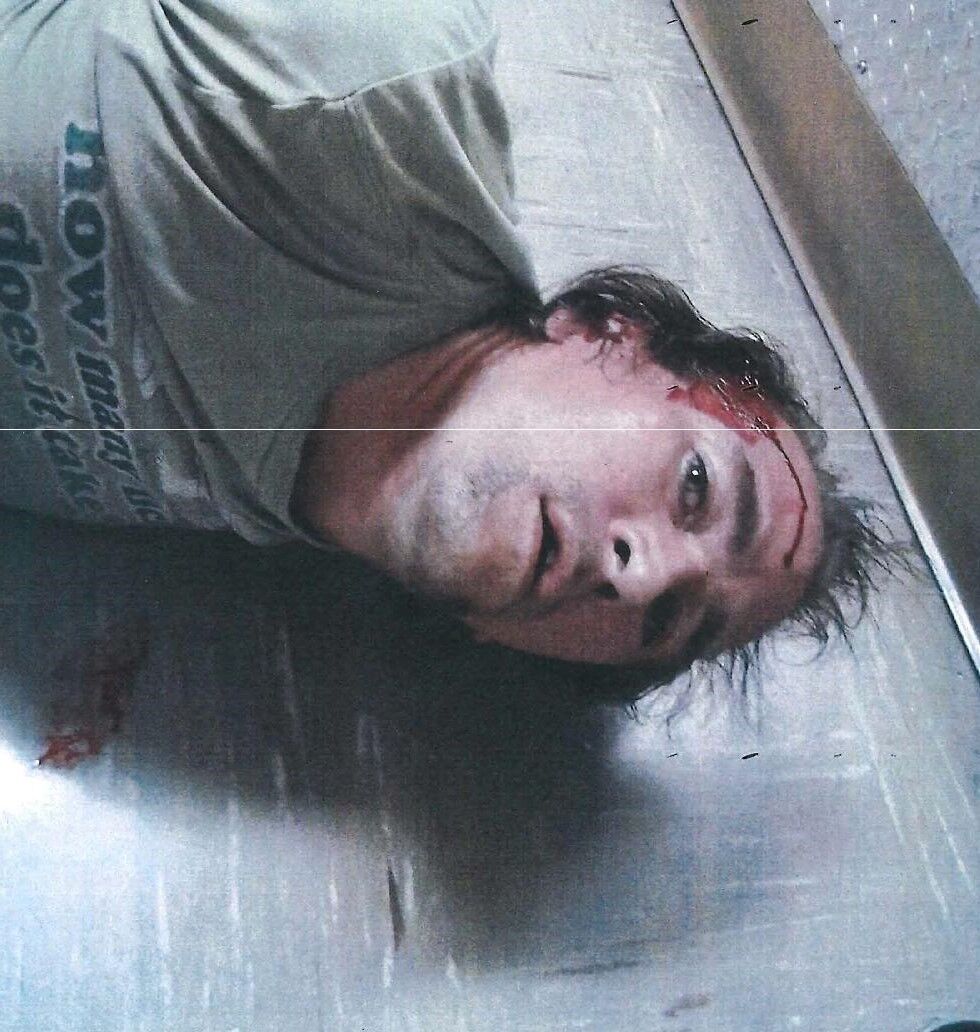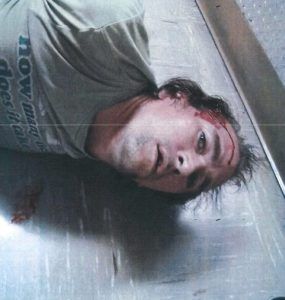 After the client was turned down by several attorneys, he found the civil rights attorneys at the Piccuta Law Group. Our firm agreed to take on his case because we believed he had been badly mistreated. In addition, one of the firm's principals, Chuck Piccuta, is a former naval officer. As such, our firm believes that veterans should be treated with the utmost respect.
Specifically, our firm believed that there was absolutely no reason for the use of force on the client. The client was in handcuffs, surrounded by multiple officers and in a holding cell. The client did not strike or use force on any officer. He was drastically outnumbered. He was not a flight risk. He was not a threat to the officers or others and he was not involved in any violent crime.
The Police Excessive Force Claims Advanced by Our Monterey Civil Rights Attorneys
The civil rights lawsuit asserted a Bivens claim for excessive force in violation of the client's Fourth Amendment Rights. The Bivens claim was asserted directly against the officers involved in their individual capacities. Since the police officers were employees of the Department of Veteran Affairs—a department of the United States Government—the firm also filed a claim under the Federal Tort Claims Act 28 USC § 1346(b). The claims arising under the Federal Tort Claims Act included: battery, assault, negligence and negligent and intentional infliction of emotional distress.
Click the following link to read the lawsuit filed in the case. Hathaway v. Fister First Amended Complaint
A Bivens Claim Briefly Explained by Our Civil Rights Attorneys
Unlike state and local government employees and agents, federal employees and agents have certain protections when they violate the constitutional rights of an individual. For example, if a police officer, who works for a state agency or a local police department, violates an individual's rights under the constitution and its amendments, that officer may be held responsible for those violations through a federal law 42 U.S.C. § 1983. This would include California Highway Patrol officers, county sheriff deputies, city police department officers, officers working for state schools, etc.
However, this statute does not apply to federal employees and agents, such as law enforcement officers working for: U.S. Immigration and Customs Enforcement (ICE), Drug Enforcement Administration (DEA), Federal Bureau of Investigation (FBI), Department of Veterans Affairs (V.A.), U.S. Marshals, Etc. Nevertheless, a certain line of cases, has allowed individuals to pursue federal employees and agents when they violate constitutional rights in a limited number of circumstances. These limited scenarios, and the corresponding cases that established them, are known as Bivens claims. This name was derived from the seminal case Bivens v. Six Unknown Named Agents of Federal Bureau of Narcotics 403 U.S. 388 (1971). The Bivens case held that when a federal officer "acting under color of federal authority" violates a constitutional right, a cause of action or claim may be advanced by the individual who suffered the harm.
The Bivens case involved a claim for excessive force under the Fourth Amendment. The claim arose when Mr. Bivens' rights were violated by officers working for the Federal Bureau of Narcotics who raided his home without a warrant or probable cause. Likewise, a Bivens claim may be brought when federal law enforcement officers use excessive force on an individual in violation of that person's Fourth Amendment rights.
The Federal Tort Claims Act (FTCA) Explained by Our Civil Rights Attorneys
Unlike a Bivens claim, which is brought against an individual in his or her personal capacity, a claim brought under the Federal Tort Claims Act may be brought against the United States only. A claim under the Federal Tort Claims Act should be considered in any case where a Bivens claim exists. The reason being, is that the United States government will not be liable to pay any award or judgment unless an FTCA claim is presented. The same holds true for settling a case. Absent a claim under the Federal Tort Claim Act, the United States will not be able to reach a settlement of the matter as only the individual is responsible under a Bivens claim.
One must be mindful, that there are certain limitations in prosecuting a claim under the FTCA. One of those limitations is that you are not entitled to a jury for an FTCA claim. An FTCA claim will be heard by a judge and you will lose the power of having a jury decide the issues and your entitlement to money damages. Another disadvantage is that no punitive damages may be awarded or recovered with respect to an FTCA claim. Punitive damages are money damages that may be awarded to dissuade or discourage a party from engaging in similar bad acts in the future. This is not an amount to compensate the injured individual, it is simply an amount to punish the bad actor or wrongdoer and is in addition to the amount awarded to compensate the individual. Historically, there have been many cases where the punitive damages awarded are far greater than the damages awarded to compensate the person who suffered the harm.
In reality, the practical reason to bring an FTCA claim, despite these limitations, is because it allows for deep pockets (the United States) to pay for the wrongful conduct of its employees or agents. If one prosecutes a Bivens claim against the individual, that individual will most likely have no insurance policy to cover the complained of conduct. That same individual may not have any assets or funds to pay any award or judgment or may even seek bankruptcy protection to discharge the debt. Simply put, an FTCA claim ensures that if one prevails, the judgment or award will likely be paid from a source where money is not an issue.
Contact a Monterey Civil Rights Attorney to Discuss Your Case
Claims against the United States government and its employees and agents are difficult to navigate. It is important that if you have a claim against the United States or one of its employees or agents, that you have an attorney with experience handling these cases. If you or a loved one has sustained a violation of your civil rights, contact one of our Monterey civil rights lawyers today for a free consultation.
About the author: The content on this page was authored and prepared by Monterey civil rights and personal injury attorney Charles "Tony" Piccuta. He graduated with honors from Indiana University-Maurer School of Law in Bloomington in 2006 (Ranked Top 35 US News & World Report 2018). Piccuta took and passed the State bars of Arizona, California, Illinois and Nevada (all on the first try). He is a trial attorney that regularly handles serious personal injury cases and civil rights lawsuits. He has obtained six and seven figure verdicts in both state and federal court. He has been recognized by Super Lawyers for six years straight. He is a member of the Consumer Attorneys of California, American Association for Justice, National Police Accountability Project and Arizona Association of Justice, among other organizations.
Disclaimer: The information on this web site is for informational purposes only and does not constitute legal advice. Reading and relying upon the content on this page does not create an attorney-client relationship. If you are seeking legal advice, you should contact one of our Monterey civil rights attorneys and discuss your specific case and issues.
Sources:
[1] https://www.law.cornell.edu/uscode/text/28/1346
[2] https://scholar.google.com/scholar_case?case=9645263532262053168&q=bivens+v+six+unknown+named+agents&hl=en&as_sdt=806
[3] https://en.wikipedia.org/wiki/Federal_Tort_Claims_Act